2018: The Year of the Award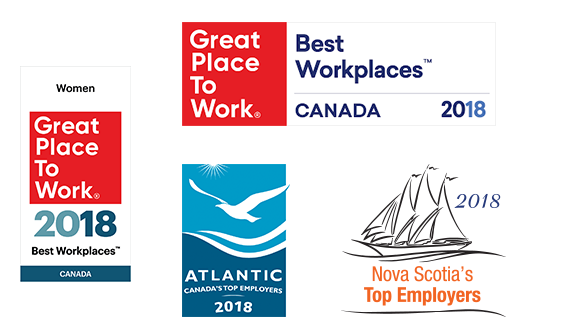 Our trophy case continues to fill up...
A year moves pretty fast. If you don't stop and look around, you could miss it. And if you're honing in on this year, well, Admiral Halifax's 2018 has been pretty significant.
Case in point: the results from this year's Great Place to Work Canada competition are in and we're proud to once again announce a designation as one of the nation's Top 50 Best Workplaces™.
Our thirteenth (13th!!) place finish was revealed at the GPTW Gala in Toronto in late April; an accomplishment that marks the fifth straight year we've made the prestigious national list acknowledging organizations that go above and beyond in creating high-trust, high-performance cultures.
The recognition places the office in Halifax - Admiral's only Canadian entity - above other powerhouse names in the financial, automotive and manufacturing & production industries and marks a meteoric rise from our finish in 2017.
"To think we've jumped thirty-three rankings - from finishing forty-sixth in 2017, to thirteenth place this year - is just phenomenal," said Admiral Halifax Senior HR Manager, Nick Beynon.
"Every organization strives to create an award-winning workplace, but having it validated by staff directly is tremendously satisfying."
Our Great Places... qualification included participation in the Great Place to Work Trust Index©, which measured survey responses from employees on a variety of subjects including quality of work, confidence in site leadership and overall job satisfaction. A written submission detailing specific employee programs, policies and benefits (our Charity Champion program, Ministry of Fun committee and extensive vacation allotment, among other highlights, were included) accompanied the trust index scores to round out our finalized submission to the GPTW selection committee.
On top of to the 13th GPTW finish, we also earned placements on Canada's Best Place to Work for Women and a showing in the list of Canada's Best Workplaces for Inclusivity lists which are also compiled by Great Place to Work Canada.
Those national successes accompany top employer in Atlantic Canada and Nova Scotia wins from earlier this year.
So, suffice to say, it's been a rewarding year thus far.
"Just exceptional," affirms Beynon.
"We have no one but our staff to thank for helping to build and grow an office that has achieved these fantastic results."