A Busy Spring of Community Support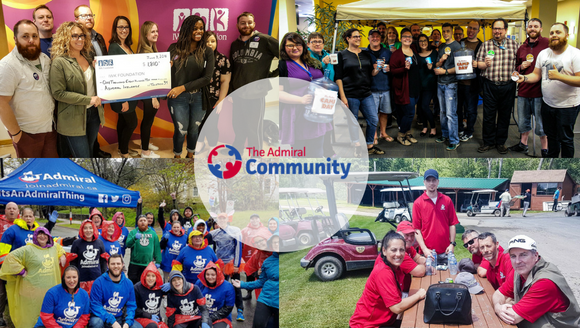 Ask not what your community can do for you...
As an employer of choice, one of the pillars of Admiral's corporate philosophy – as it should be with any large, reputable employer – is placing a strong emphasis on community support and forging stronger relationships with organizations in our own backyard. This spring saw Admiral employees roll up their sleeves to help us remain true to that tenet.
Over Victoria Day weekend in May, a group of 20 Admiral Volunteers, from all levels within the company, ensured hundreds of participants at Halifax's Bluenose Marathon were motivated and hydrated. Stationed at Young Ave. in south end Halifax, our team of volunteers divvied out water and Gatorade during the marathon's 5k and 10k Sunday races. The wet weather didn't dampen our spirits as we had Admiral branded tents for shelter and company shirts for employer pride. The morning was as fun and rewarding as it was…soggy.
"A lot of organizations may be hard pressed to get a large volunteer commitment from staff on a long weekend," offered Recruitment Executive, Dayna Hynes.
"But in true Admiral fashion, we had a dedicated team that were eager to jump in and ensure we were well represented."
Also in May, our New Business Senior Care Representatives took their community involvement game to the next level in a big way.
After a month of reverse 50/50 draws, selling tickets on raffle baskets and other in-house fundraising initiatives through Admiral's Charity Champion program, the SCRs not only raised just shy of $2,000 for the IWK Children's Wish Foundation, but also volunteered time on a Sunday morning to answer pledge calls during the not-for-profit's highly successful annual spring telethon.
In two hours, the group of Admiral volunteers accepted about $5,000 from donors across Atlantic Canada as part of a record setting $6.5 million campaign to benefit the foundation.
"Cutting a cheque is well and good but we wanted to go a step further and get involved in a 'hands on' way," said Erika Dube, who helped coordinate the telethon involvement.
"Getting the commitment we received from the department, I think that says a lot about the type of people we have working for Admiral."
To round out our spring of community support, on June 6 Admiral treated employees to a cup of joe in support of Tim Hortons Camp Day. It was our sixth year participating in the fundraiser that helps 20,0000 kids from low-income families across the country attend summer camps.
We also participated in Big Brothers Big Sisters 'Golf for Kids Sake', as we sent two teams of four employees to River Oaks Golf Club in beautiful Meagher's Grant for a paid day out of the office as part of the fundraiser for BBBS programming and services.
Needless to say, it was a busy yet gratifying spring with a lot of time spent giving back to organizations and events that not only benefit our employees directly, but also act as the backbone of our community.