Customer Assurance Is Coming to Halifax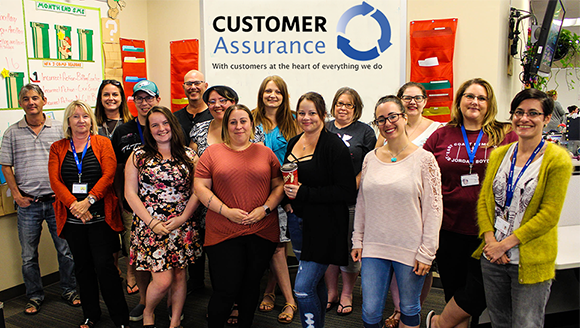 Growth is never by mere chance; it is the result of forces working together...
Halifax is preparing for the launch of a new-to-Canada department called Customer Assurance, Admiral's relatively new complaints handling function.
CA officially gets off the ground in Halifax on Monday, September 10 with a soon-to-be twenty-two Customer Assurance Executives (CAE), two Team Managers and a Senior Care Representative rounding out the team that will directly support our UK counterparts in their day-to-day operations of ensuring Admiral is providing the best outcomes to its customers.
With more than 3 million UK clients, Admiral Group established Customer Assurance last year at HQ, in an effort to better centralize and streamline our complaint handling responses and resources. Motor, household, telematics, travel – you name it, if a complaint is generated within one of the contact centre functions that can't be directly resolved by a Team Manager at the ground level, Customer Assurance will have it in their peripheral.
Charlotte Wilshire, a Cardiff-based Customer Assurance TM who arrived in Canada in August to help spearhead the launch, said a CA foothold in Halifax is welcomed.
"Ensuring effective complaint handling is in place in all contact centers has been a priority of Customer Assurance since the department's inception last year. Having a presence in Halifax will only strengthen the journey for our customers."
The scope of CA's work is far-reaching and includes responding to escalated customer complaints through written correspondence, addressing complaint comments on the company's social media channels, responding to media inquiries on potential 'bad publicity' stories, but also implementing complaint prevention measures to reduce the number of potential future complainants.
The Halifax team will be a combination of existing complaints agents from Renewals and New Business and current frontline Customer Care Representatives. Additionally, six UK employees will call the city home for the foreseeable future to assist with training and overseeing the function in its infancy.
Site General Manager, Mike King, said the new department has the potential to offer more career paths to Canadian staff.
"This opens new doors for growth and career trajectories in Halifax. Previously, it was very black or white for most – Renewals or New Business. Adding Customer Assurance means employees have another avenue to explore the business and grow their careers within Admiral."
While it's difficult to assess the future growth of the department in Halifax, optimism is high given how CA has evolved in the UK over the last year. The function started with 59 staff in 2017 and by the end of the year the expected headcount will be 184 including Halifax.