Admiral Table Tennis Tournament: Olu Shines in Site-Unifying Contest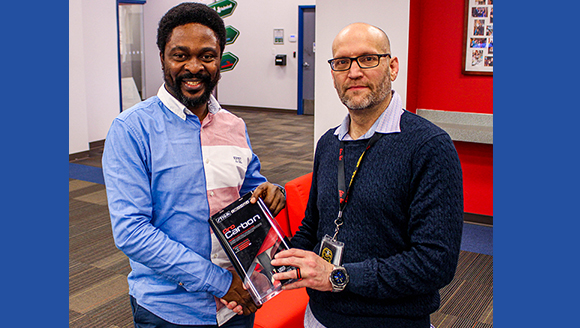 With events like the second annual Admiral Table Tennis Tournament, the Admiral family can come together to celebrate and promote all that is great about our site and – most importantly – have some fun.
"We have a lot of staff and over the last year a lot of new staff have joined our company. This is a great way to meet people in different departments at Admiral. It's our family culture and I see Admiral in Halifax as one Family." – Michael Heilman, tournament organizer
With 32 participants across four departments, an open call was made to find the best paddler in all of Admiral. Players with less formidable skills could self-identify keeping the brackets fair and equal. Each single-elimination rally saw two opposing players spin their way to a best two out of three victory.
"We had a good mix of on phone and off phone resources It's good that we cross over the hallway and meet our co-workers on the other side. It builds the Admiral Halifax brand and what makes Halifax great," said Michael.
With each win, a modest handshake and pat on the back demonstrated good sportsmanship and comraderies between co-workers. It came down to the semi-final round, with Olu "Slick Spins" Ayebiwo upsetting defending champion Josh Wincey while the "Control Wizard" Gladson Dsouza defeated WFM stalwart Dave "Smash Master" Hayter.
The crowds gathered around to witness the quick hands of these table tennis titans, cheering on their favourites while also taking a break from the duties of the day.
"It was great to see people that were not participating asking when certain matches would take place as they wanted to cheer on certain people," said Michael.
In the end there can only be one. "Slick Spins" Olu chopped, blocked and spun his way to a triumphant win over Glad. As the winner of the contest, Olu was presented with a professional grade STIGA Pro Carbon Table Tennis Racket so he can continue to turn heads with one of Admiral Halifax's favourite pastimes.
When asked what's next on the horizon for site-unifying friendly competition Michael Heilman had this to say, "Keep your eyes out for a possible re-felt of our pool table and an 8 Ball Tournament. Mike King has claimed to be a contender in this event."
With our site General Manager stepping forward to issue a challenge we're sure all departments will be eager to enlist, further characterizing what makes us all one big Admiral Family.