Admiral Reflects on International Women's Day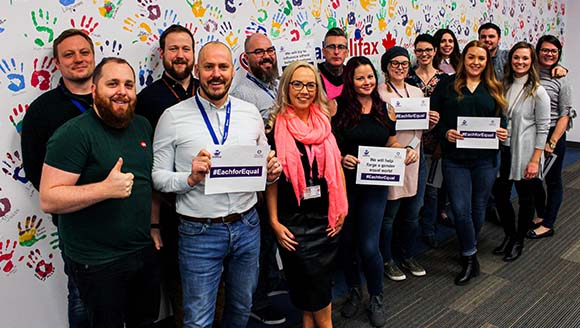 With International Women's Day approaching, members of the Halifax office came together recently to discuss Admiral's role in contributing to a global workforce where, increasingly, gender is no longer a barrier to success or opportunities.
The globally honoured day on March 8, celebrates improvements that have been made in the advancement of women's rights, but also identifies gaps that still exist in many areas including wage disparity and equal representation at a leadership level.
"It's a very specific day for us, collectively, to celebrate and spread that awareness on a higher level," said New Business Team Manager Jess Duhamel about the importance of organizations acknowledging International Women's Day.
Duhamel is one of 280 female employees in an office where women account for 58% of the total headcount and 54% at the team management level. It's a balance that contributed to the site earning a placement on Great Place to Work Canada's 'Best Workplaces for Women' list in 2019.
Progressive policies that ensure equitable treatment for both male and female employees - such as providing up to 22 weeks of employer subsidized maternity leave and offering paid time off for pre-natal and mammogram screening – also contributed to Halifax's success as an employer of choice for women.
"I think Admiral is making sure that we recognize and support people of all genders but particularly look at women leaders of today and give them the opportunity to advance their career paths and really show that they add that value to our business," said Customer Loyalty Operations Manager Rebecca Cable.
Last December, a handful of management-level employees attended Wonder Women 2019, a conference facilitated by The Halifax Chamber of Commerce. Their participation came off the back of a suggestion by the site's Gender Committee.
"That day was so inspirational and it really educated me on things I wasn't even aware of that had happened to women in the past and the struggles we've gone through," said Duhamel of the event.
In addition to Wonder Women, staff at a frontline customer service level also enjoy opportunities to attend conferences and events that highlight the contributions of females in our community, such Adsum House's Women of Excellence Dinner where Admiral will purchase a table for 10 employees to attend the not-for-profit's annual fundraiser.
"I'm inspired by the female leaders that I work with every day. So, I think it's important that Admiral encourages females here to continue to influence and share ideas," said People Services Manager Jen Richard on Admiral's equal opportunity philosophy.
The Halifax Gender Equality Committee has several sitewide activities planned for March 9-13 to coincide with International Women's Day. The committee has partnered with MOF and MOH to bring awareness to the success and overall health of women today.
Happy International Women's Day, to all our celebrating employees!