Halifax Launches New Staff Development Program At Sitewide Meeting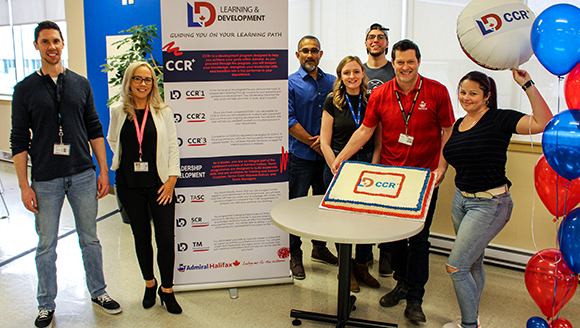 The first edition of Admiral Halifax's new quarterly catch-up series took place in early March as the site's leadership team delivered an update on Halifax's ongoing performance, results from the recent Great Place to Work Trust Index staff survey, and introduced a new, Halifax-exclusive development program designed to put employee training and growth directly in the hands of frontline staff.
In a shift from past years of having one annual site general meeting, the revamped format now sees four updates from the site's operations leadership team over the course of the calendar year. This is designed to keep staff at all levels continually informed about how their contributions are impacting the bigger picture.
"It's important for our employees to be aware of how we're progressing as an office but also how our office is affecting company performance on a larger scale," said General Manager Mike King of the desire to hold more frequent all-staff meetings.
Some of the key messages delivered at the recent quarterly update include the reveal of Halifax's staff satisfaction survey scores from fall 2019. The site posted some of the stronger scores in the 'Trust Index Survey' administered to the whole of the Admiral Group by The Great Place to Work Institute. The survey asks for staff opinions on their workplace across multiple categories, including equality in the workplace, culture, and community involvement. Several Halifax departments achieved some of the highest scores in their respective functions, beating out their UK counterparts in categories such as credibility, pride, respect and fairness.
In addition to survey scores and departmental performance results, one of the more significant portions of the quarterly update included the formal launch of Admiral Halifax's Learning and Development training programme: CCR+. The robust training package encourages frontline Customer Care Representatives to complete online courses aimed at fast-tracking their professional and personal development inside and outside of work, and is broken into several development stages: CCR+1, CCR+2, CCR+3. An employee begins at CCR+1 with online courses done both in the office and at home on their own time (through Admiral's online training platform ILearn) and eventually works their way through each tier, concluding the program upon successful completion of CCR+3.
To coincide with the program's launch, a $500 draw is being done on March 27! Any employee who completes the CCR+1 stage will be entered into the draw, and it is open to everyone in the Halifax office. For some Customer Care Representatives, the CCR+ program will allow them to learn new material related to their roles and the general insurance industry, but also enable them to build new skills they can utilize outside of work such as time management. For others in more senior, managerial roles, CCR+ can serve as an information refresher, or introduce them to new learning concepts.
"This online learning experience has been designed to be completed in your own time and at your own speed. Tackle it with enthusiasm and at the pace that works best for you. There is no deadline!" said King of the program's flexible, relaxed nature.
He adds the hope is that as soon as an employee begins the program, they'll see the benefits and will be encouraged to complete and move onto the next level, with the monetary benefit acting as additional incentive.