Great Place to Work 2020 - How Did We Do?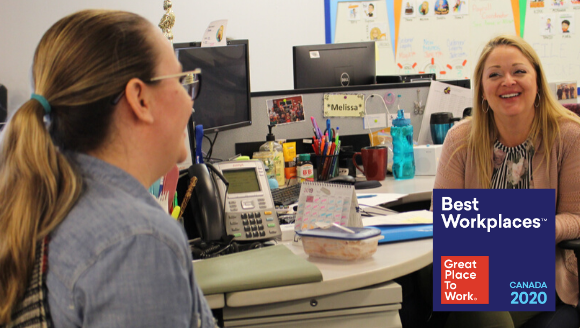 Amid a backdrop of economic uncertainty and COVID-19 anxiety, Great Place to Work Canada looked to unify and engage a portion of our country's business community last week with the official reveal of the 50 Best Workplaces in Canada for 2020.
We're proud to say Admiral Halifax has once again - for the tenth consecutive year, no less - earned a placement on that list.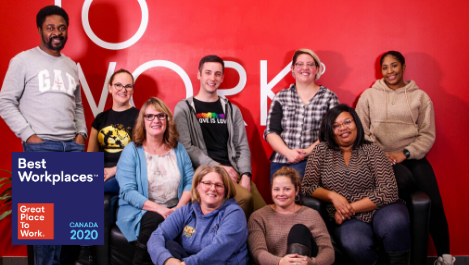 The annual 'employer of choice' awards recognizing Canadian organizations who prioritize a strong corporate culture, instilling the confidence and support of their workforces in the process, looked dramatically different this year than in the past. Missing was the formal gala in downtown Toronto, and the opportunity for a collective in-office staff celebration. Instead, with the country largely in COVID-19 lockdown, this year's awards emanated virtually with a staggered reveal of the country's leading workplaces done by way of video installments on the Great Place to Work Canada website, between April 13-16.
The countdown began Monday with the first video counting down those companies that placed 50-40. By the time Thursday rolled around for the grand finale, and the announcement of the last 20 positions, Admiral was still waiting with bated breath on our fate. As number 20 was revealed, and then number 15, we were feeling confident 2019's 13th place finish would be improved upon. Fortunately, that confidence wasn't premature as the Halifax office proudly finished 11th in the category of '1,000+ International Employees'! We placed higher than organizations like Toronto Dominion Bank, Royal Bank of Canada, and Mercedes Benz Canada, among other household names in the Canadian Insurance and Financial Services sector. We were also one of only two Nova Scotian organizations to secure a placement on the list (shout out and congrats to New Castle Hotels & Resorts for also placing!).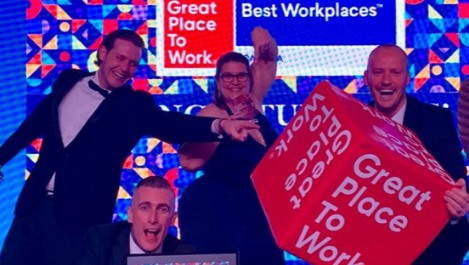 In compiling the list of the country's Top 50 Best Workplaces… Great Place to Work require competing organizations to participate in both an employee satisfaction survey (the Employee Trust Index) and submit a detailed written package where organizations answer questions that describe any progressive programs, benefits and perks, or other unique facets of their office culture that sets them apart from the competition.
Our Trust Index survey, sent to staff last November, saw 92% of our 400 plus workforce respond positively to statements regarding workplace equality, fairness, trust in management, etc. These scores were instrumental in not only our success in this year's Best Workplaces… competition, but also collectively stand as some of the highest of any site throughout the whole of the Admiral Group, internationally. A great achievement for the Halifax office.
To support the impressive Trust Index scores, our cultural audit was a considerable 155 pages and detailed progressive offerings like our employee Personal Spending Account and Life Loan programs, as well as a host of other internal initiatives such as our various employee driven committees, charitable accomplishments, and focus on staff recognition.
"Our aim now is to get into the top 10 because we truly deserve that," said Site Director Rebecca Cable to staff via video following the 11th place finish announcement.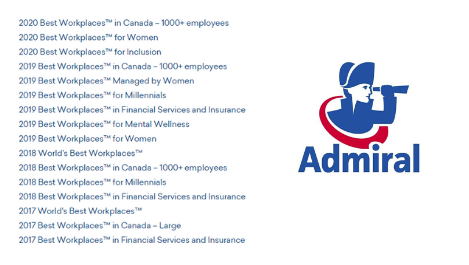 The eleventh place finish marks a dramatic jump in performance in the Great Place to Work contest for Admiral in Canada. Going back to 2017, we were staring at a lot of distance between ourselves and those in the Top 15 from our position at number 46. It also accompanies two awards presented to Admiral Halifax by Great Place to Work earlier this year: a Best Workplace for Women and Inclusion, respectively.
This year's GPTW contest news is also a bit bittersweet as celebrations that would normally follow in-office are obviously absent as the Admiral office remains shuttered amid COVID-19. Still, there's reason to be hopeful, according to People Services and Payroll Operations Manager, Jen Richard who concluded a video message alongside Cable and outgoing Site Director Mike King with this message.
"Rest assured, when things are back to normal, we'll celebrate this fantastic achievement together as a site."