Admiral Earmarks $250,000 for NS Charities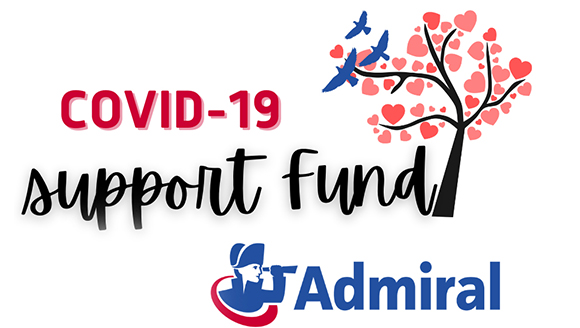 As the pandemic's third wave established itself in Nova Scotia this Spring, many private sector businesses continued to feel a roughly year's long pinch: closures, reduced operations, and uncertainty reared their ugly heads once again, as they have, to varying degrees, since the earliest days of the pandemic's arrival in the province. Worst still, non-profits - many of whom play a critical role of support lifelines in their respective communities - were also staring immense uncertainty in the eyes. Fundraising events, which act as the proverbial bread and butter for organizations outside of the embrace of public sector support, had grinded to a standstill and many charities faced an ever-present uphill climb to maintain key support services.
In early May, Admiral revealed details of an ambitious campaign to lend support to local non-profits reeling from the impacts of the pandemic. The COVID Support Fund was launched with a goal to distribute $250,000 in community assistance by the end of 2021 to Nova Scotian charities, non-profits, or community groups.
"It's our opportunity to help important organizations in our backyard - those whose fundraising efforts may have taken a hit or those who have seen an increase in demand for their services because of COVID," said Admiral Halifax Site Director, Rebecca Cable of the initiative.
The $250,000 pledge is part of a £5million global effort by Admiral. Each of its international operations is being provided capital in support of regional non-profits. The insurer also wants employee participation at the forefront of this campaign.
"We're asking Admiral staff to lead the charge - tell us which organizations should receive support and then we'll do the leg work in ensuring the cheques are written or other help is provided as needed," added Cable.
In communicating the announcement, Admiral launched am internal form that staff can use to formally submit a request for either funding for an non-profit, or other assistance, such as purchasing equipment, supplies or providing volunteer hours through the organization's Give A Day program. Submissions will be reviewed by a committee as part of a verification process. In submitting, an employee needs to briefly explain the nature of the work of the recipient organization, specifics of how COVID has been a detriment, and what Admiral can do to rise to the occasion with support.
Food banks, shelters, community centres, and longterm care homes are just some examples of the potential benefactors under the COVID Support Fund.
As of this writing in early June, the COVID Support Fund has already had major impacts:
• The Parker St Food Bank has received $5,000.00 in the form of gift bags including grocery and personal care items to coincide with Mother's Day.
• Freedom Kitchen were provided $20,000.00 to assist with upgrades to the kitchen's facilities, addressing accessibility concerns - including the construction of a new accessible entrance & parking lot.
• Animal Rescue Coalitions benefitted from $5,000.00 to help cover the costs of caring for abandoned domesticated animals while they await foster homes.
• The North Grove were given $5,000 to implement new outdoor programming, including the purchase of a large 20x40 foot tent.
• The AIDS Coalition Nova Scotia received $20,000.00 to help them cover budgetary shortfalls following fundraiser cancellations and to continue to adapt their programming in response to the pandemic.
"As an award-winning workplace, we're excited to lend support however we can and show these organizations that they are truly the backbone of our community, while at the same time giving employees the autonomy over how we do that," Cable concluded.
We've been announcing new recipients every week under the COVID Support Fund. Visit out Facebook page (Admiral Jobs – Halifax) for the latest donation announcements.