How We Became One of Canada's Best Hybrid Workplaces...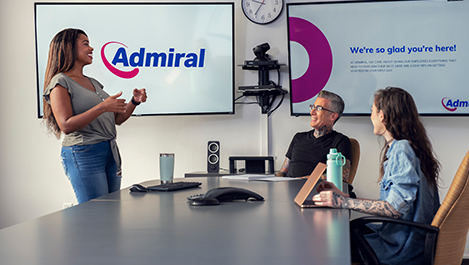 Since 2020, the global workplace has seen a pandemic-produced transformation that has, for all intents and purposes, upended many traditional organizational values. Location, manpower, and processes have been totally reimagined in what's been categorized as a watershed moment in the history of work.
Looking strictly at the impacts on businesses, for better or worse, COVID has ushered in a new era that has not only forced companies to rethink the core of their operations – stratospherically raising questions of who does the work, how, and where? - but also amplified dialogue around workplace mental health, work-life balance, and the true benefactors of productivity, among others.
At the heart of it all is the big hybrid working shift.
A concept that had already gained staggering momentum in the last decade, hybrid-working (splitting your workweek between days at home and time in office) has become a near across-the-board standard. In January, Statistics Canada said less than 1 in 20 Canadians were not currently working within such an environment, illustrating the far-reaching surge of the office exodus.
The benefits of hybrid working have, by and large, been lauded, but the question many organizations are left to mull over is what does this it resemble in the future?
It's a consideration Admiral has assertively answered.
THE RISE OF HYBRID WORK AT ADMIRAL
In March 2020, as coronavirus cases were identified within the province, Admiral, like many other responsible organizations, decided to shutter its office. It was, unquestionably, the best course of action to prioritize the safety and wellbeing of our employees. Little did we know it would also dramatically change the face of our business – the catalyst for a complete re-envisioning.
For added context: between 2007 and that March, home working wasn't even a blip on the radar of our Canadian business strategy. The IT considerations and accompanying hurdles formed one explanation, as did the preservation of our corporate culture, where an open concept office coupled with a strong family dynamic and a plethora of in-office perks contributed to a uniquely Admiral environment that differentiated us from our competitors. The best answer you could get upon asking if home working would ever go transcontinental and set foot at the doors of Admiral Halifax was 'Maybe some day'.
Then, COVID.
"From a business continuity perspective, we knew immediately that we had to set the wheels in motion," said Admiral Manager, Jimmy Connors, of the office closure and resulting business decision to roll out a crucial home working plan.
Recognizing time was of the essence, Connors, the telecommuting project lead, knew it was a sink or swim scenario.
"We hit the ground running by ordering hundreds of laptops. Before long we had a basic infrastructure in place where we could start testing the waters," he added.
While Admiral ensured its customer care representatives were paid unconditionally during two weeks of downtime (before the federal government had even introduced CERB packages) Connors and a dedicated team of IT professionals made further headway, getting more and more employees online in their newly forged remote working world.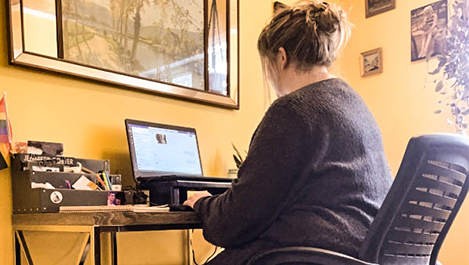 An Admiral employee works from her home office.
"Normally a project like this would involve scheduling teams to give the environment a test run, training them up on its use, training up support staff and finishing it off with a staggered roll out. We didn't have the luxury to do that," admitted IT Specialist, Mark Wentzell, whose tenured role in Halifax IT made him the subject matter expert for this gargantuan project.
"Members joining the IT Halifax Helpdesk from different areas of the business were able to provide support for our staff in a field they had no formal training in. The entire project depended on teamwork and Admiral had that in spades," Wentzell added.
Together the team felt the highs of getting the initial wave of agents online, as well as frustrating low points, like the realization network stability would be impossible without a VPN and more servers online, something that was eventually realized, leading to a dramatic drop in IT issues. Still, there was no shortage of 'one step forward, two steps backwards' scenarios that made the project a slow crawl on the worst of days. With the benefit of late nights, a great deal of trial-and-error testing, and patience (lots and lots of patience) we reached the point in late spring/early summer where hybrid work was more than a shaky foundation. The blocks of permanency had been laid.
STAFF FEEDBACK FORMING STRATEGY
As our workforce eventually found the groove of home working, the implementation was met with a large degree of positivity. In a pulse survey, 70% of employee respondents said post-COVID they'd prefer to continue working from home at least 2 days a week, with 36% of those saying they would work from home all the time if given the opportunity. Avoiding commutes, increased concentration in a home office environment, reduced stress levels and cost savings were all high on the list of reasons why home working was, well, working for our staff.
"…I've spent the last two months not overcome with social anxiety each and every day, [I'm] in an environment I've made comfortable and healthy for myself. My productivity and mental health have vastly improved since WFH," was one of the more impactful comments on the profound benefits home working was having.
The level of satisfaction in Halifax, combined with an effort at Admiral's UK HQ to fully embrace a hybrid working model, led to the decision to make it a continued fixture in our operations. We dubbed it Smart Working: employees spend most of their working days in a home office interspersed with occasional team engagement days in office, ensuring face-to-face interaction and cultural touchstones wouldn't be abandoned.
The concept, while appealing to many, won't be universally well-received by those with inadequate home office spaces or poor internet connectivity. To offset those situations, employees who prefer working from our office, rather than at home, can continue to do so. Before increased pandemic restrictions, approximately 80 employees were routinely working from the office in the summer and fall of 2021 - approximately 17% of our workforce.
"Not everyone enjoys a home office environment, and this is a change we don't want to force on anyone," said Rebecca Cable, Admiral Canada Director Operations.
"What works for one person will not be feasible for another. It's important that we strike a balance and meet everyone's needs with respect to accommodations," she added.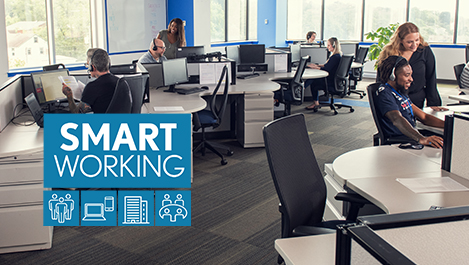 Our Smart Working model combines at home hours with team engagement days in office.
The gravitation to home working has also been accompanied by dramatic renovations, as our physical office is set to undergo a considerable overhaul this winter. The Mumford Road location will sport a leaner 18,000 sq ft space intended for 200 employees, down from 71,000 sq feet and max capacity of 70 staff0. What we're giving up in physical space we're gaining in modernity. The new digs will maintain our preference for an open concept environment and featuring focus spaces, collaborative working areas, and a town hall area for large gatherings.
NATIONALLY RECOGNIZED APPROACH
Our approach to moving full steam ahead under a smart working banner has come with additional safeguards to both maintain the traditional workday structure – for example, ensuring the convenience of virtual meetings doesn't become commonplace to the point of burnout– and protect employees from the potential burdens of a home office. A 'no meetings Wednesday' policy ensures administrative personnel outside of phone-based roles have a day free of MS Teams gatherings, while similar support initiatives for customer service agents included an $80/person allowance to facilitate office equipment purchases. An extension to our Personal Spending Account program gives employees the opportunity to claim reimbursement of up to $500 per annum on out-of-pocket expenses related to home working life, such as internet costs, or home power bills. We've also prioritized recognition initiatives whenever possible; making deliveries to our employees' homes with swag bags, sweet treats and other 'thank you' items as part of National Employee Appreciation Day or other internal events.
Our efforts in implementing a smart working strategy have earned Admiral acclaim at the national level. In February, we were named to the 2022 list of Canada's Best Workplaces for Hybrid Work by Great Place to Work®. It's the first year they've compiled such a list. Award eligibility followed the completion of a hybrid work questionnaire, with Great Place to Work® determining the best organizations based on the workplace programs and practices described therein and, also, on employee sentiment.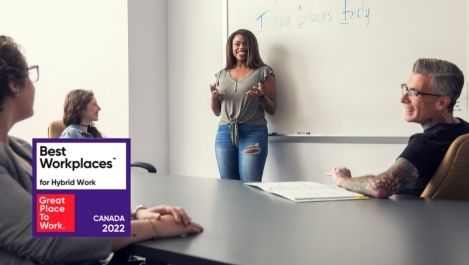 Employee feedback played a big part in our Best Workplaces designation.
In an all-employee Trust Index survey administered by Great Place to Work in Nov. 2021, we were fortunate to have incredible levels of support from our staff: 98% of Admiral Canada employees responded favorably to the statement "I am encouraged by Admiral Group's commitment to Smart Working/Ways of Working". Similarly, 96% of our workforce agreed "I feel well informed about how Smart Working/Ways of Working will affect me".
"The survey scores reaffirmed our belief that opening the door to permanent smart working was a positive decision for our organization," Cable offered.
There have been occasional silver linings in the dark clouds of COVID-19. For Admiral, being able to propel forward under a progressive working model that underscores employee satisfaction and ticks the box of healthy organizational change is a true watershed moment in the history of our work.
"To see Admiral recognized as one of Canada's Best Workplaces for Hybrid Work is a true culmination of our collective efforts to date," Cable concluded.
The road to this point has been paved by many hands and it's a true reflection of our overarching company purpose statement: always striving for better together.