Admiral Provides $165,000 to Staff - Community in Storm Relief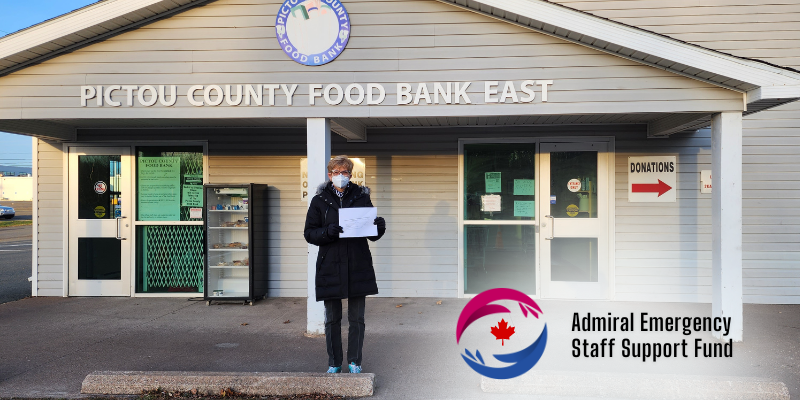 When post-tropical storm Fiona upended Nova Scotia in September with extensive power outages, property damages, and other debilitating impacts in her wake, the weather event served as a reminder of the severity of mother nature at a level seldom seen in our region. Conversely, the storm stood as a testament to the resiliency of Nova Scotians and the communities in which they reside. A shining example of a collective grace under pressure and a 'together as one' attitude that echoed throughout Cape Breton and mainland parts of the province.
Government aid programs were established in the immediate days and weeks post-Fiona, but the private sector also stepped up to create meaningful impacts in the form of food drives and benefit concerts that showed solidarity with those hit hardest by the storm.
Admiral also quickly prioritized assistance through initiatives to support essential community organizations reeling from the storm and employees across the province who had shared their stories of Fiona's imposed hardships.
"Admiral determined very quickly that we had a necessary response role to play," mentioned Admiral Canada Director Rebecca Cable of the company's decision to implement a spontaneous program that would provide monetary assistance to colleagues hit hard by the storm.
"After the weekend storm, on Monday morning, we told our team to share how Fiona impacted their situation and that we would do everything we could to offer immediate assistance and help them financially."
The response was more than significant: Admiral staff in Halifax described losing hundreds of dollars in groceries or needing a hotel room for a hot shower after being without power for over a week. Other employees in Cape Breton wrote of severe damages to their homes that needed immediate repairing or paying out of pocket for tree removal services and additional upfront costs associated with ballooning property insurance claims.
About 50 submissions funneled into the in-house employee support fund, with Admiral providing $15,000 in non-repayable Fiona-related assistance.
"As a business that imparts the value of community - both inside and outside of work - being able to offer this program was simply a continuation of core values," Cable added.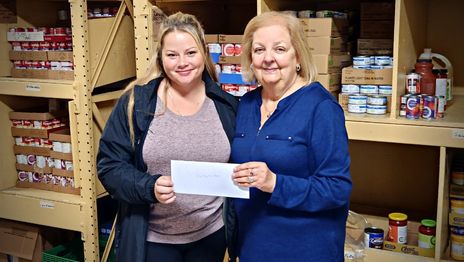 Admiral employee Jennifer Meisner (left), drops off a cheque the Glace Bay Food Bank as part of Admiral's staff nominated Fiona Support Fund.
Further to supporting colleagues bearing Fiona's burdens, Admiral also engaged with community stalwarts affected by the storm and offered help via a grassroots, employee-nominated charitable campaign.
On top of an initial $50,000 commitment to the national relief efforts of the Canadian Red Cross and $25,000 to help Feed Nova Scotia respond to increased service demand on the back of the storm, Admiral put employees in the driver seat of a lengthier Fiona support campaign.
"We asked them to nominate Nova Scotian charities impacted by the storm and how Admiral could help," said employee Jennifer Meisner, who coordinated the Fiona Support Fund.
"When all was said and done, we finalized over a dozen donations."
Food banks, community fridges, wildlife parks, shelters, youth centres, and more received Admiral support. For example, in Pictou County, Tearmann House received $10,000 to help with essential property restorations. Two Rivers Wildlife Park in Canning also benefitted from $9,500 to help with park remediations. Likewise, Souls Harbour Rescue Mission in Halifax received $7,500 to cover food losses and increased operational costs post-Fiona.
The Fiona Support Fund resulted in an additional $75,000 in employee-directed, non-profit support across 14 not-for-profits.
Weekly emails kept the Admiral workforce apprised of the recipients, the amounts, who suggested the donation, and how the money could benefit.
"It's one thing to cut a cheque – it's another to do so with the knowledge that the funds are helping an organization whose mission aligns with our workforce's values," Meisner added.
With help from the Admiral Group Global Support Fund, Admiral Canada's internal and external Fiona relief campaigns totaled $165,000.
For Rebecca Cable, the outcomes of helping one another in times of need far outweigh any dollar figure.
"Without our employees, who are we as a business? Without strong pillars, where does that leave us as a community?" Cable offered.
"These initiatives were simply about doing the right thing for our Admiral colleagues and others in Nova Scotia. At the end of the day, you can't put a price on that."