New Corporate Values and New Purpose Statement to Close out 2022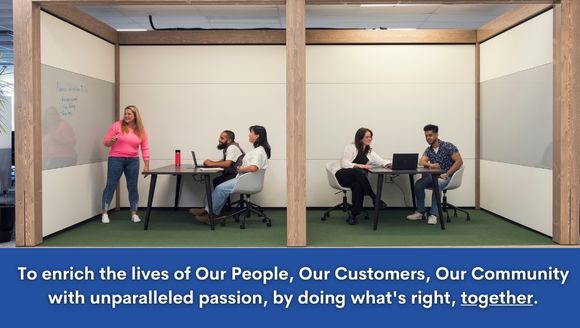 As the doors close on 2022, to say it was an eventful year for Admiral Canada would be putting it lightly: continued remote workforce expansion throughout Nova Scotia, the launch of two new to Canada departments in the form of Claims and Information Security, a fourth-place finish in the national Best Workplaces in Canada contest – these were some of our finest defining moments in 2022. We also celebrated a 15th birthday with a huge busker themed summer party, completed construction on a new hybrid-working-focused modern office and, for the eighth consecutive year, were named one of Atlantic Canada's Top Employers. It was a year of growth, success, new beginnings, and moving the needle further on what makes us an employer of choice as we announcement colleagues would enjoy up to five additional vacation days in 2023 (new employees now start with a full five weeks of annual paid time off) and revealed plans to introduce shorter work weeks beginning Jan. 1 without compromising bi-weekly earnings.
Another important internal development was a push to formalize Admiral Canada beliefs and motivations in the form of a new purpose statement and accompanying organizational values.
"Our workforce dynamic looks quite a bit different than it did two or so years ago," offered Canada Site Director, Rebecca Cable.
"With many new faces spread out across the province, it's important that we ensure we're all aligned with what Admiral Canada stands for – our underlying goals and why they should matter."
Rolled out and shared with staff in late Q4, Admiral Canada's freshly inscribed purpose statement reads: To enrich the lives of Our People, Our Customers, Our Community with unparalleled passion, by doing what's right, together.
"It affirms that every action, every decision, is with these stakeholder groups in mind - our employees, our customers and communities – and how we aim to continuously improve the root conditions of their lives," Cable offered of the motivation behind the purpose statement.
Developed alongside the purpose statement are five accompanying values serving as both a motivational construct and call to action for those on the inside of our business:
Never forget the impact you have on our customers: The difference we make in the lives of Admiral customers can never be overstated. We provide our customers with security and peace of mind and should do so with a focus on service excellence. Inside Admiral, management's decisions and actions will always be made with our internal customers (our employees) at the front of mind.
If we believe in it, we make it happen: If something can positively benefit our colleagues, community, customers, or business, we will do whatever we can to make it a reality and do so through teamwork, perseverance, and a commitment to the belief that we should always do the right thing.
Strive for better: both personally and professionally: We're at our best when encouraging each other and pushing ourselves toward continued growth inside and outside of work. We're better together when sharing talents, new perspectives, skills, and ideas. We're stronger as individuals when we recognize the power behind self-improvement.
Give back; that's our community out there: As a Top Employer in Atlantic Canada, we're committed to making positive, lasting impacts in our region while encouraging everyone to explore ways to improve themselves by improving our community.
Be your unique self and celebrate that authenticity in others: Our talents shine the brightest in an environment free of judgement, where inclusivity is embraced, and people can be themselves unquestionably. We recognize that individuality is part and parcel of a diverse workplace, and our differences should be recognized and celebrated whenever possible.
Our new purpose statement and values reflect what makes Admiral Canada a vibrant, diverse, altruistic, and effective workplace.
There are no big surprises hidden amongst these statements here, instead a commitment to continue operating as we have over the last 15 years – with a focus on doing what's right for those inside and out of our organization.