Admiral Named Second Best Workplace in Canada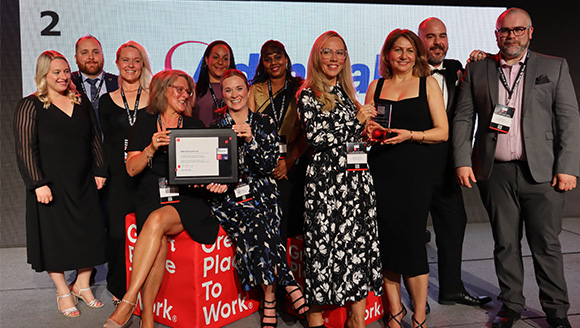 Great Place to Work Canada – the leading authority on workplace culture – recently celebrated the release of Canada's Best Workplaces for 2023, which included a record-setting second-place finish for Admiral Canada.
It's our best result in the prestigious annual competition, putting us just shy of the summit of the Top 50 Best Workplaces in Canada list following a fourth-place finish in 2022.

Admiral Canada Site Director, Rebecca Cable, said this year's runner-up ranking was incredibly gratifying.
"It's a shining record-breaking example of what we can achieve when we unite with an unparalleled passion to do what's right together."
The Top 50 rankings, announced in April at a gala event in Toronto, recognize employers who create an 'outstanding employee experience and an amazing workplace culture.'
The Best Workplaces Journey
The road to the Toronto ceremony was a two-step process including an all-staff satisfaction survey called a Trust Index – 100 or so questions on a company's management, culture, professional development, total rewards, corporate social responsibility, etc. These survey results are the primary determinant of success, accounting for 75% of a company's final score in the Best Workplaces in Canada competition. Accompanying the Trust Index is a written application called a culture brief, where each participating organization can supplement its survey results by describing the best facets of their corporate culture.
"We were fortunate to, once again, perform exceptionally well in the Trust Index," said Communications Coordinator Kyle Davis, who spearheads Admiral Canada's Best Workplaces participation.
"We finished with a 95% overall positive score, which put us six percentage points higher than other competing Canadian companies of similar size and demonstrates that employees remain invested in our culture."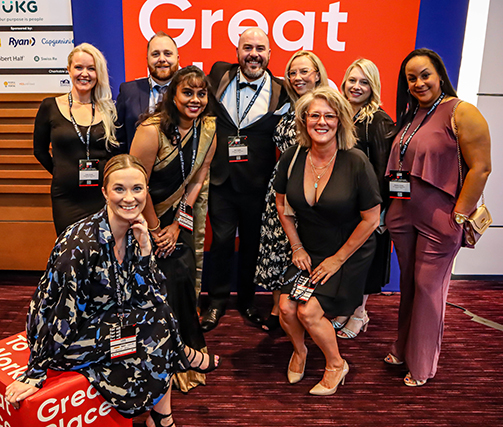 The Trust Index survey results followed key initiatives Admiral Canada introduced in 2022 to support colleagues and the communities in which they reside. These included reducing working hours without impacting pay to provide continued life/work balance, a wage increase in response to the rising cost of living, and $100,000 in community support in the wake of Tropical Storm Fiona. We also helped colleagues directly affected by the storm with $15,000 in direct, non-repayable assistance to help them purchase groceries, remove trees from yards, find temporary accommodations, etc.
"One of our team values is 'Give back – that's our community out there.'" Cable offered.
"This reflects our commitment to supporting other Nova Scotian organizations and our Admiral community. Our philosophy is that we must do the right thing for the wellbeing of our colleagues whenever we can."
But That's Not All: Other Big Successes
On top of the coveted second-place success and overwhelmingly positive employee feedback, Admiral Canada has enjoyed other notable accolades from Great Place to Work in 2023, including being named a Best Workplace for Women, a Best Workplace for Giving Back, and most recently, a Best Workplace for Financial Services and Insurance.
Further to those, in January, we were named a Top Employer in Nova Scotia and Atlantic Canada by Mediacorp Canada for the 11th consecutive year, and on the strength of staff offerings like a Life Loan program where employees can apply for an interest-free loan of up to $3,000 for significant life events, our parental leave top-up support, and industry-leading vacation time of between five and six weeks for all.
On the back of these awards, we asked some of our colleagues what they feel makes Admiral a Great Place to Work:
"Admiral's a great place to work because they're super supportive…you really feel like such a big family when you're all together." – Katelyn Mitchell.
"Our hybrid working model allows a lot of flexibility to work from home or the office. You get to organize yourself while feeling like you're part of a community." – Kody Wilson.
"You're encouraged to be yourself and be accepted as yourself, and that is really part of the diversity and inclusion aspect that we work hard on." – Fabian O'Brien.
"I've been for quite some time, so it's nice to have that family environment. I also love the Personal Spending Account as part of our benefits. I use it for my vet bills, which makes it so easy - you can claim that and get your money back in a couple of days. It's so amazing." – Nikita Johnston.
"They encourage us to grow personally and professionally. The opportunities I've had to improve my development have been like nothing I've ever experienced." – Amelia Hatfield.
For Rebecca Cable, the accolades Admiral Canada has received all point to the strength of the collective.
"These results are a testament to the dedication and hard work of an amazing team of people who continue to go above and beyond in creating a positive and supportive culture where everyone can be their unique and authentic selves."