Achievement Unlocked: Admiral is Canada's Fourth Best in 2022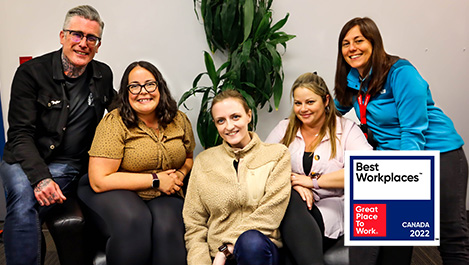 What makes an organization a 'great place to work'? Is it compensation? Vacation time? The benefits, flexibility, or a host of other 'this and that's' in between? There's no right or wrong answer. No one universal smoking gun that, in the grand scheme of things, makes a company inherently more deserving of the 'great workplace' moniker than another. Personal preferences aside, what considerations like time off, wages, and company perks all point to, however, is an overall atmosphere – that intangible dynamic – of corporate culture.
A lot goes into cultural building blocks, with the general consensus hitting the note that most everyone in an organization has a role to play in contributing to cultural vibrancy, but its seeds undoubtedly germinate at the leadership level. "The key is to treat your staff how you would like to be treated," is a basic, but familiar assertion. "The 'C' in CEO stands for culture," is another... There's no shortage of wisdom from highly successful leaders who arrive at the same general conclusion: good corporate culture lives and dies by a company's brass.
This spring, the global authority on workplace culture issued the 2022 edition of its annual list highlighting the best of the best workplaces. It's a spotlight on the companies that have cultivated a robust cultural current of trust, satisfaction, and employee engagement. Great Place Work Canada has three decades of experience in culture research and consulting. They stand as one of the premier purveyors of compartmentalized culture, so to speak. That is to say, the various focal points that feed into an overall big picture, such as employee recognition, two-way communication, continuous learning, and more.
Canada's Best Workplaces...: A Brief Admiral History
As in years past, the 2022 Best Workplaces in Canada list offered a Top 50 breakdown of the nation's best workplaces. While the highly anticipated list dropped in April, the process for consideration for participating companies effectively began in late 2021 with a Trust Index survey aimed at capturing the sentiments and thoughts of a workplace's employees. Using a five-point disagree to agree with scale, the extensive survey asked for opinions on various cultural touchpoints, including management, reward and recognition, corporate philanthropy, and fairness. The minimal benchmark for success here is a 75% overall satisfaction score. So, three-quarters of those surveyed need to rate their employer positively for a company to be Great Place to Work certified. The resulting Top 50 finalist list is built predominantly from the highest-scoring companies, but a cultural brief - a written submission that details the programs and practices that form an organization's cultural backbone - is also part of the application process. The survey and written component combine to produce a final submission for the judging team. The end result is four annual lists of the nation's best workplaces based on organizational size. They also release auxiliary lists throughout the year, such as Canada's Best Workplaces for Women, Today's Youth, Best Workplaces for Mental Wellness, etc.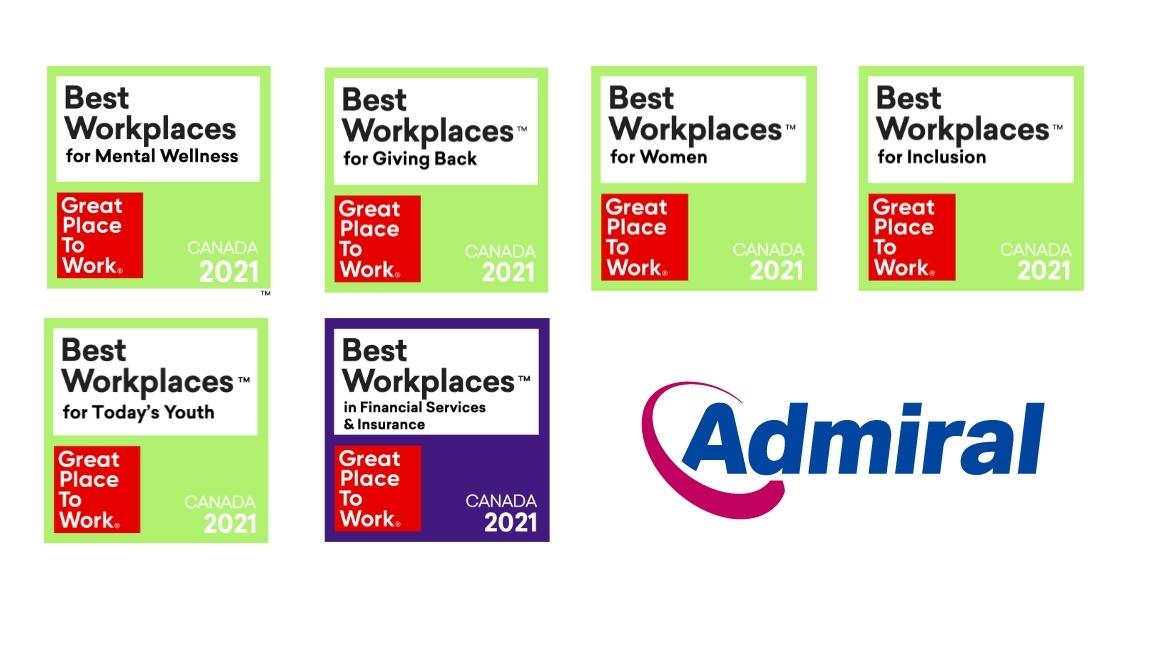 Admiral's participation in the Best Workplaces… competition is not unique to Canada; all of the Group's subsidiaries compete annually in their country's respective Best Workplaces… competitions. As a feedback-driven workplace, we leverage the Trust Index survey (TI) and quarterly in-house pulse checks to form the most accurate barometer of staff satisfaction. We're continuously assessing whether policy changes, implementations, and overall business direction resonate with everyone from all walks of our business. Our success rate in these national contests, and the aforementioned special category lists, has been consistent. In Canada, dating back to 2017, we have enjoyed multiple top 15 finishes in the category of 1,000+ global employees. In 2019, we were named the 11th Best Workplace in Canada, following back-to-back 13th place results. Then, in 2021, following a year of dramatic pandemic spurred change, we notched a 93% overall TI score on our way to becoming the nation's fifth Best Workplace. This record-setting performance coincided with appearances on no less than six auxiliary lists (see those accolades in the image above). We carried that strong momentum throughout the year in preparation for the 2022 contest.
The Great 2021 Shake Up
"I think falling into a sense of complacency is one of the biggest pitfalls when attaining cultural buy-in," offered Admiral Canada Operations Director Rebecca Cable.
"You have to continue to push the envelope, and I believe we did that quite well over 2021," she added.
In the lead-up to our November TI (the staff survey that would influence The Best Workplaces in Canada 2022 rankings), we embarked on some landmark projects. A philanthropy campaign named the COVID Support Fund saw us contribute over $250,000 to Nova Scotian NPOs and community groups. We also rolled out a formalized hybrid working strategy to solidify permanent remote working while simultaneously revealing plans to expand talent attraction efforts into new regions within our province. Moreover, we embarked on plans to dramatically reconstruct our physical office to coincide with that new way of working. Those significant developments were bookended by adjustments to employee compensation and the return of our in-person signature recognition event, the Admiral Awards Gala.
The culmination of a banner 2021 was an impressive 94% overall TI score - a performance that stood six percentage points higher than the average participating Canadian company with 1,000+ employees. It also positioned Canada as the top-performing site throughout the entirety of Admiral's international operations.
Within that flagship score came a lot of positive affirmations: 96% of employee respondents agreed that our management shows 'appreciation for good work and extra effort.' At the same time, 94% regarded their 'immediate manager as a good manager,' and 95% felt that Admiral Canada is a great place to work.
Categories focused on workplace pride, fairness, camaraderie, and credibility all scored 93% or higher. Workplace culture came in at 96%.
"There were many highlights," Cable remarked of the Trust Index.
"Out of the ninety or so survey questions, there wasn't a single one where we had lost points compared to the previous year," she beamed.
The survey's open-ended, anonymous comments section offered further positive insights into Admiral's healthy cultural landscape.
"The amount of time off we get is incredible. The atmosphere is great. I know it sounds cliche, but it is absolutely true that the management treats the staff like human beings. You can just carry on with them, and there's no feeling of them feigning interest in what you're saying or whatnot. I think it speaks to the culture of this place and the people who are selected to work here," read one submission.
Another offered: "There is so much that is unique to Admiral. I feel like I'm constantly bragging about work to people outside of work. It's truly a family feel, where everyone wants the best for each other and we're all committed to achieving the same goals."
"I feel every employer would like to say its a family environment, but in my 25 years of working, this is the only place I have ever been that actually embodies that spirit," another comment affirmed.
And The Big Result
With that 94% in our back pocket, we waited with bated breath for April 26, and the official Best Workplaces in Canada 2022 rankings reveal.
"In the lead-up, there's always that question of 'how did other companies perform?' explained Jen Richard, Head of People Services for Admiral Canada.
"How were their survey numbers? How was their written submission?... Based on our strong survey scoring, we were cautiously optimistic that we'd enter the Top 10 once again."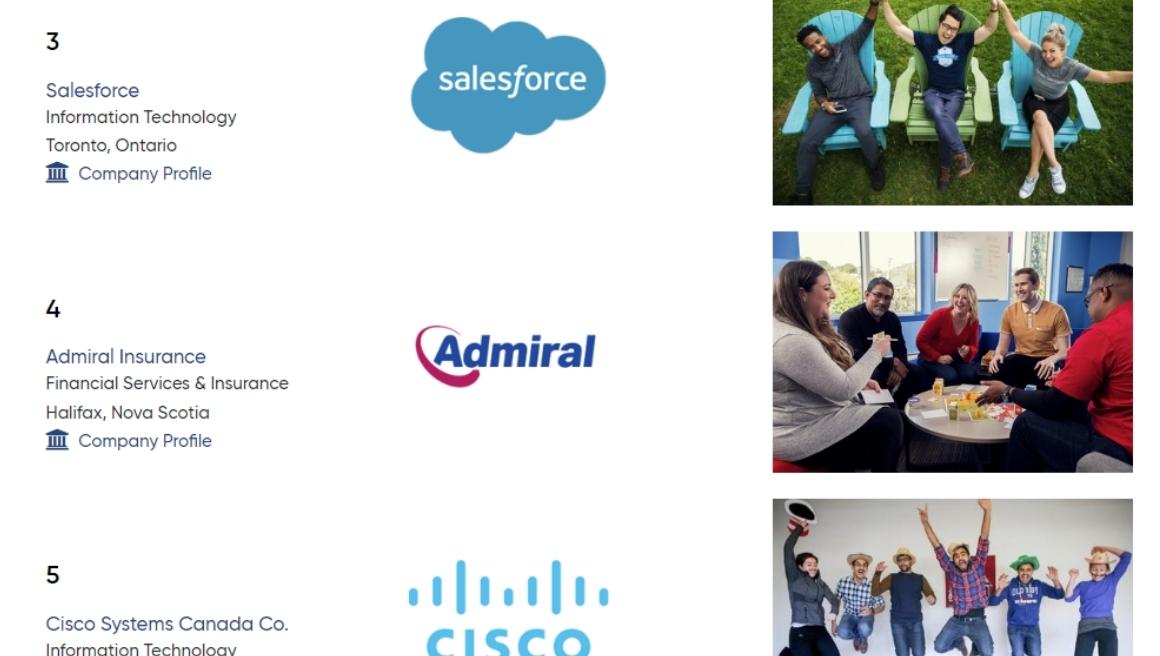 What actually followed was an excellent fourth-place finish that positioned Admiral higher than many national household names, including Visa, Hilton, Sun Life, TD, etc. We were the only participating Nova Scotian company and one of two Atlantic Canadian companies to rank in the list of organizations with 1,000 or more global employees.
The achievement mirrored that of our UK colleagues, who also came in fourth in the UK Best Workplaces 2022: a pair of identical finishes that speak to an undercurrent of satisfaction running deep throughout the company.
For Rebecca Cable, the Canadian finish is truly a combined team effort of which all employees can be proud.
"It takes a united workplace to achieve something like this. You need support from all corners of a business. Everyone in Halifax, Cape Breton, and in-between can hold their heads high knowing they've contributed to something exceptional," she mentioned.
In a video message following the announcement, Cable expressed her pride in the Admiral Canada workforce and reiterated to employees that continued self-evaluation is a key to consistency.
"We remain committed to constantly reviewing what we do to make sure Admiral Canada remains a great place to work," she offered.
Our 2022 Best Workplaces competition result is a defining moment in the 15-year history of Admiral's Canadian operations. As our top performance to date in this employer-of-choice contest, it was steered by a unified frontline team and dedicated management group who understand the value of cultural curation. It also serves as a fitting example of our larger business purpose: always striving for better, together.