Admiral Gives Back: The Priority of Community Support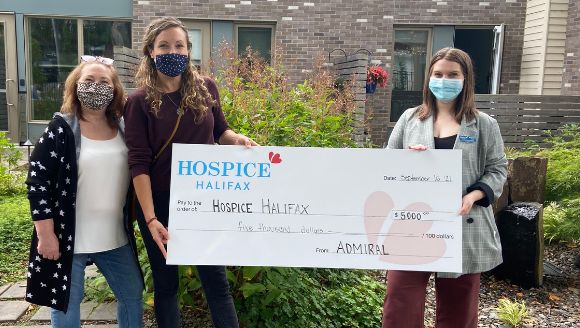 Now more than ever, organizations are being held under an accountability microscope. In an age of social media, information sharing, and the 24-hour news cycle, organizational integrity and morality are routine checkpoints. Yet, beyond how a business conducts itself within the scope of day-to-day customer service, one of the most vital indicators of an organization's intentions and its sincerity lies in how beliefs shape initiatives. Actions, not overwrought mission statements, are perhaps the best gauge of a company's morals and how it enacts a strategy to instill positive change well beyond its four walls.
In simplest terms, it's corporate social responsibility (CSR): the emphasis an organization places on helping communities and society. It's an increasingly integral focus, and a successful approach to CSR balances considerations like environmental sustainability, long-term impacts, and ethics with resources, sponsorships, and more. While the truest CSR initiatives are ultimately rooted in altruism, the spinoffs for the benefactor business come in the form of improved employee engagement, increased customer loyalty, and meaningful contributions at the global level. Ultimately, concentrated CSR efforts generate positives for employees, the business itself, and the communities in which they reside.
Admiral prioritization of good corporate citizenship is reflected within a larger four-pillars strategy - the four tenets that guide our business decisions: communication, community, reward & recognition, and fun. Corporate social responsibility is firmly ingrained within that community pillar and how we can contribute to sustained change within Nova Scotia. These efforts have resulted in both staff buy-in and attention at the national level.
Earlier this spring, Great Place to Work, one of the country's foremost authorities on corporate culture, released its annual selections of Canada's Best Workplaces for Giving Back. The list featured organizations where at least 90% of employees felt good about the way their employer contributed to the community over the previous year and, for the fourth consecutive year no less, included a nod to Admiral Canada.
The announcement was incredibly gratifying as it followed a November all-employee survey where 97% of our employees agreed positively with our community contributions and came on the back of a landmark SCR initiative aimed at affecting positive, meaningful change across the province.
Monumental Action During COVID
In April 2021, Admiral Group announced a multimillion-dollar, internationally coordinated commitment to assist non-profits and community groups that the COVID-19 pandemic had impacted. Every global operation within the Admiral Group received a capital injection to engage in individual outreach campaigns at the local level. In Canada, a $250,000 charitable purse was the backbone of our Nova Scotian campaign – formally titled The COVID Support Fund (CSF). The goal was to help organizations facing a reduction in funding or a sharp rise in service demands due to the pandemic. After a formal email launch, we put our employees in the driver's seat.
"A consistent element of our charitable work has been in employee participation and guidance: letting their values, their beliefs, and sentiments guide our decision making," affirmed Admiral Canada Site Director Rebecca Cable.
That employee-directed strategy has manifested itself in many ways over the years, including staff-driven campaigns under a program called Charity Champion: monthly, in-house initiatives that saw employees spearhead fundraising efforts in support of local non-profits, with matched funding at the corporate level. The COVID Support Fund furthered that staff-directed focus, and the project garnered momentum from Admiral employees who voluntarily nominated grassroots organizations they felt could benefit from the CSF. Staff submissions included a suggested amount of money and how those funds could potentially be used based on the circumstances of the organization in question.
"Putting employees at the forefront of the Support Fund encouraged a bit of self-reflection," Cable added of the campaign's staff-led component.
"It prompted them to recognize critical roles that charities and other important groups play while also getting them to look inward and take stock of their own personal values that are ultimately reflected in the non-profits that serve our community."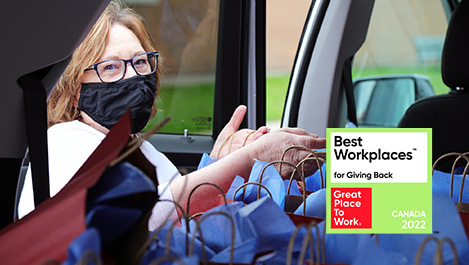 The CSF ran for eight months and produced remarkable results: 50 employee submissions, 32 selected Nova Scotian organizations and a combined quarter-of-a-million dollars shared between them. We helped community kitchens serve meals, had a role in reviving a school breakfast program, supported Indigenous Nova Scotians, opened our arms to LGBTQ+ newcomers, reached out to colleagues during times of crisis, supported seniors' mental health programming, helped open a new sports facility...the scope of organizations assisted, and the number of positive impacts generated was truly far-reaching. Employee submissions were equally eye-opening, revealing existing connections our employees had to our community.
"My daughter has applied to volunteer here. It's a newer organization focusing on those in need and doesn't have the history of larger organizations...They would appreciate anything we can offer," read a submission in support of Freedom Kitchen, which received $20,000 from the COVID Support Fund to help its Community Kitchen respond to unprecedented demand in the wake of the province's housing crisis.
"(They) grant unfulfilled wishes to seniors (such as) helicopter rides - as they did for my grandfather - hockey games or sporting event tickets, etc. But, unfortunately, due to the pandemic, they had to stop granting wishes, and their bigger fundraising events were on hold," offered another submission for We Are Young. As a result, they received $5,000 to benefit their wishes program for seniors nearing the end of life.
Many CSF donations fell between $5,000 and $20,000. In some instances, we offered gift cards or other items. A commitment to Adsum House for Women and Children is an example. We facilitated $10,000 in Sobeys and Walmart gift cards as part of the Christmas hampers Adsum provides its clients every December.
The COVID Support Fund was the centrepiece of our 2021 corporate social responsibility efforts, and the relationships Admiral has built with CSF recipients will undoubtedly continue to grow in subsequent years, which is perhaps the most significant legacy piece the project leaves behind.
"As much as it was an opportunity to make tangible differences at the local level, it was also an eye-opening experience for the whole of Admiral Canada," Cable added.
"You step back and take stock of all the incredible work being carried out by important organizations across Nova Scotia. Organizations that play huge roles in the lives of many."
Building New Foundations in 2022
While the dust has settled on the COVID Support Fund, the theme of staff direction and participation has held firm, and it is now showcased as a significant working relationship between Admiral and the IWK Foundation.
The partnership, announced earlier this spring, has Admiral supporting the IWK in many areas: as an official sponsor of their annual care catalogue, a sponsor of the 2022 IWK telethon, and through a staff-driven fundraising campaign. The campaign branded The Big Match encourages Admiral employees to contribute nominal amounts to support the children's hospital. Participating employees can win prizes along the way, making it an attractive program that promotes grassroots charitable support while giving staff the chance to win prizes in exchange for their bi-weekly commitments. Admiral will double all funds raised at the end of the Big Match's life cycle in spring 2023.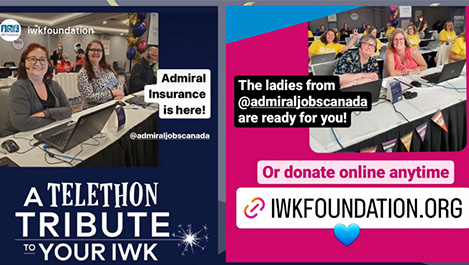 "We're a very family-centric workplace," offered Marketing and Attraction Coordinator Jennifer Porter.
"So, I think forging this partnership with the IWK is a strong reflection of one of our core values as a business," she added.
The first step in the partnership involved an Admiral sponsorship of the 2022 IWK telethon, where Admiral matched public donations of up to $10,000. The effort raised $23,000 between public contributions and the Admiral match. Six Admiral employees also volunteered during the telethon, accepting telephone donations.
"The telethon is a true Maritime tradition. To be involved as a prominent sponsor and through volunteering was exciting," Porter mentioned.
"We are very fortunate to have employees that see the value in what we do in the community and are inspired to get involved as company ambassadors."
To encourage employee volunteering, Admiral has a program called Give a Day where staff can take two days annually to step into a volunteer capacity, support a local organization during regular Admiral business hours, and get paid to do so.
The program will play a prominent role in our corporate social responsibility efforts throughout the second half of 2022 and beyond.
For Rebecca Cable, the Give a Day program and employee-directed approach to corporate social responsibility speak volumes of the authenticity behind our continued community support efforts.
"It's one thing for a company to write cheques in support of a cause," she said.
"It's another that those within the company continuously feel invested and empowered by their employer to make a meaningful difference whenever they can. I think Admiral continues to prioritize that effectively year-on-year."